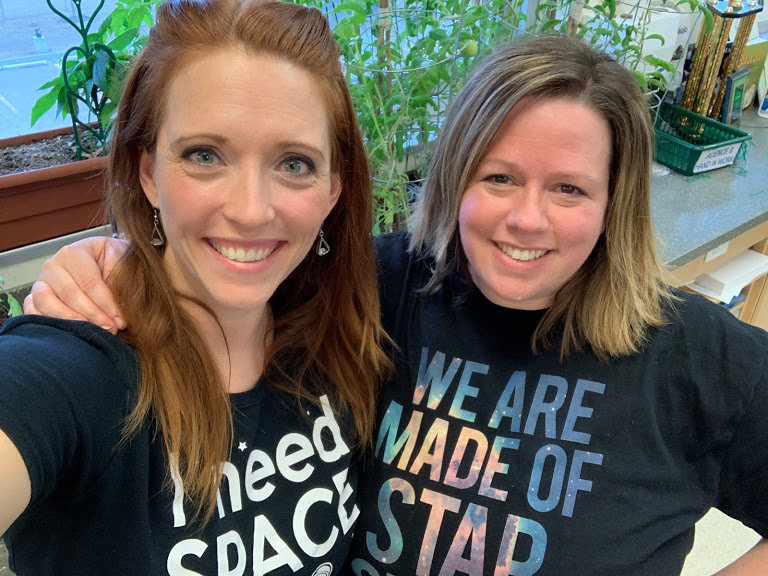 Amanda Green
Date of birth:
July 25, 1979
Born: Edmonton, Alberta, Canada 
Motto: 
Be the spark that ignites a flame in the lives of others.
Favourite Pastimes:
Exploring nature and new places
Favourite Subjects in School:
 Science, Outdoor, Education
Job Title:
Junior High STEM Teacher
Education:
Bachelor of Secondary Education
Organization:
 Black Gold Regional Schools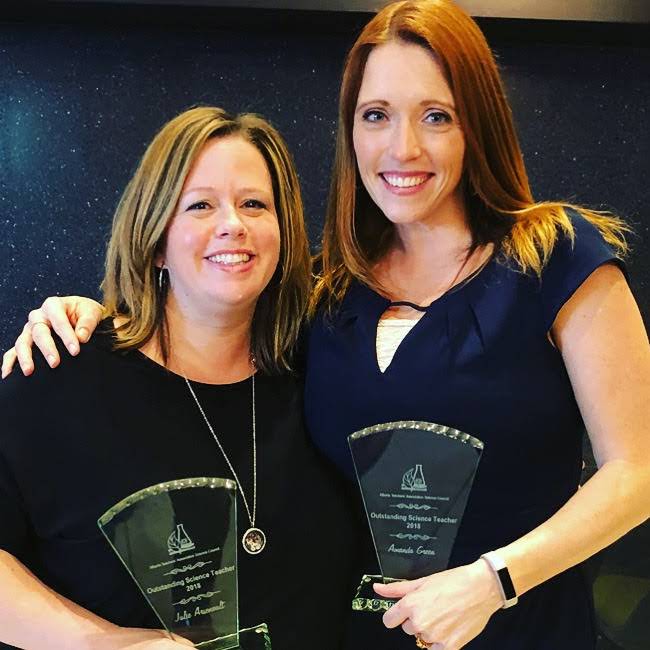 Julie Arsenault
Date of birth:
November 8, 1975
Born: Winnipeg, Manitoba, Canada 
Motto: 
From failure we learn.
Favourite Pastime:
Travel
Favourite Subjects in School:
 Science, Drama
Job Title:
Junior High Science Teacher
Education:
Bachelor of Science Specialization in Microbiology; Master of Science in Microbiology and Biotechnology.
Organization:
 Michael Strembitsky School, Edmonton Public Schools
Amanda and Julie are passionate STEM educators who thrive when collaborating on authentic inquiry-based projects that are often inspired by themes of space exploration. Their latest endeavor focused on the colonization of Mars and the Moon and included plant growth in combinations of Earth soil and Mars or Lunar simulant regolith, building and insulating model space habitats or greenhouses, studying sustainable energy sources, and coding Micro:bit automated monitoring systems. Amanda and Julie love to share their "spark" for STEM and hope to one day maybe put a maple leaf on the Moon or Mars! Recently, they were jointly awarded the Alberta Teachers Association Science Council Outstanding Science Teacher Award.
How did you come to your present job or role?
We both had a spark for science at a young age, Amanda exploring nature with her family and Julie wanting to help a childhood friend with diabetes. After our respective studies we began teaching science and loving the challenge of finding creative ways to make the subject material come alive for our students. We met at a science conference and began working together on some small projects. Over time, we realized how much we had in common and have been collaborating on more in-depth projects ever since.
What do you love most about your job?
We love that we get to learn something new every day and that our lessons evolve and change with new discoveries and challenges around us. It's especially fun to take an interest like space and weave it so seamlessly into a variety of our lessons that excite and engage our students.
What has been your biggest challenge in your career and how did you overcome it?
The biggest challenge is finding enough time and resources to do everything that we want to do! Right now is an exciting time to be a Canadian in love with space, but there is a lot of work to be done to get us to the Moon and Mars. In our classrooms we work on everything from robotics and coding to growing plants and learning about alternative energy resources. To accomplish all of this, time is needed to collaborate, research current advancements, implement meaningful lessons and projects that line up with our curriculum, and of course, find funding for these unique opportunities.
Who or what has helped you the most throughout your career?
Like building the International Space Station, we are stronger when we are united and solving problems together. Being able to collaborate has been one of the biggest reasons we have been able to do this exciting work Having someone to bounce ideas off of, check over our work and tackle big challenges together is invaluable.
Do you have any Canadian "superheroes" in the space field?
Almost every CSA astronaut has had an impact on us, but Robert Thirsk has been a tremendous support of our work and a champion of the Tomatophere initiative, one of our first space inspired projects.
What advice would you offer to our youth?
Remember that in order to succeed, we all need to try and, quite often, to fail.  Challenge yourself. Find your spark and don't be afraid to fail first and fail often.  Find those who share your passions and who both compliment and challenge what you are doing.