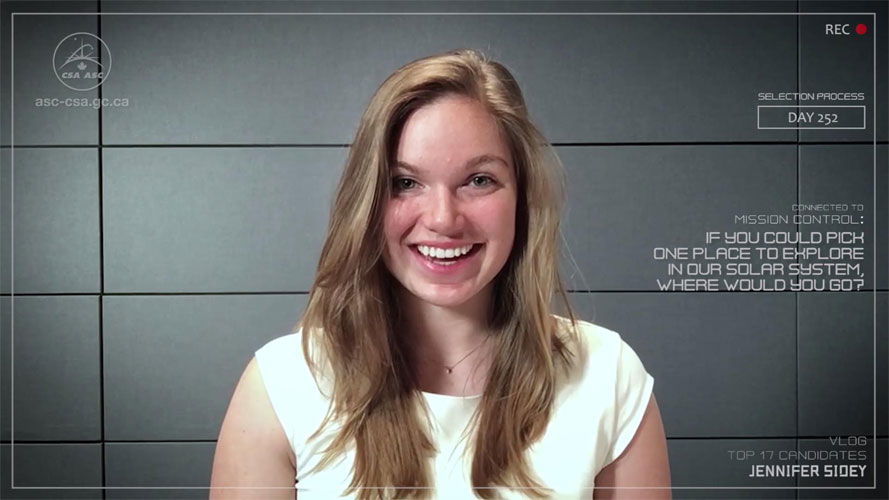 Date of birth:
August 3, 1988
Born: Calgary, Alberta, Canada
Motto: Fortune favors the brave
Pastimes: cycling, rugby, and teaching
Background: Mechanical engineer, combustion scientist, and lecture
Education: Bachelor in mechanical engineering; Ph.D. in engineering (combustion)
Languages: English, basic French
Mission: Astronaut Candidate Training Program
Personal Data: Born August 3, 1988, in Calgary, Alberta. Dr. Sidey-Gibbons enjoys cycling, rugby and teaching.
Education: Dr. Sidey-Gibbons holds an honours bachelor's degree in mechanical engineering from McGill University in Montreal, Quebec (2011). While at McGill, she conducted research on flame propagation in microgravity in collaboration with the Canadian Space Agency (CSA) and the National Research Council Flight Research Laboratory. She then moved to the United Kingdom (UK) to earn a Ph.D. in engineering with a focus on combustion from the University of Cambridge (2015).
Organizations: University of Cambridge
Special Honours: Institute of Engineering and Technology (IET) Young Woman Engineer of the Year Award (2016); Royal Academy of Engineering (RAEng) Young Engineer of the Year Award (2016).
Prior to joining the Canadian Space Program, Dr. Sidey-Gibbons worked as an assistant professor in internal combustion engines at the Department of Engineering of the University of Cambridge. The focus of her research was flames, how we use them, and how to stop them from emitting harmful pollutants. Precisely, she worked on the development of low-emission combustors for gas turbine engines. She also taught undergraduate and graduate students in the Energy, Fluid Mechanics and Turbomachinery Division on topics ranging from conventional and alternative energy production to introductory thermodynamics and flame physics. 
Aside from these formal responsibilities, she also actively acted as a role model for young women considering technical careers in science-related fields. Most notably, she is the co-founder of the Cambridge chapter of Robogals, a student-run international organization that aims to inspire and empower young women to study STEM through fun and educational initiatives. Through this work, she has taught programming to over 3,000 young girls across the UK. These outreach activities, along with the technical success she achieved in her academic career, led to her receiving the prestigious Institution of Engineering and Technology's Young Woman Engineer of the Year Award and a RAEng Young Engineer of the Year Award in 2016.
Dr. Sidey-Gibbons was one of two recruits selected by the CSA in July 2017 through the fourth Canadian astronaut recruitment campaign. In July 2017, Dr. Sidey-Gibbons will relocate to Houston, Texas, to start the two-year Astronaut Candidate Training Program at the Johnson Space Center as a member of the 2017 National Aeronautics and Space Administration (NASA) astronaut class. The program includes scientific and technical briefings, intensive instruction in International Space Station (ISS) systems, simulated extravehicular activities (EVAs, or spacewalks), robotics, physiological training, flight training, Russian language courses, and sea and wilderness survival training.
Why did you want to become an astronaut?
I wanted to become an astronaut because it provides an incredible challenge. It aligns with my interests in the advancement and application of science for the benefit of society. It will also provide me with a platform from which I may inspire a diverse group of young people to pursue their interests in science and engineering subjects.
PERSONAL TASTES AND FAVORITES

What is your favourite sci-fi movie?
What is your favourite book?
If on a Winter's Night a Traveler by Italo Calvino.
What is your favourite place on Earth?
What is your most treasured possession?
What motivated you to study in your field?
I like to figure out how useful things work and, when I started studying engineering, I decided to study combustion because it is a fascinatingly complex process involving so many different phenomena. This complexity makes fire interesting and incredibly challenging to study. Beyond this specialization, I also knew academic research was the ideal job for me because it would mean I was always on the forefront of scientific discovery. I now have the opportunity to learn new things about useful combustion processes and apply what I know to make our energy and propulsion devices better
What did you like best about your job as a lecturer at the University of Cambridge?
My favourite part was the interaction I had with students. Whether it's through supervision in the laboratory or lecture theatre, I had a wonderful opportunity to teach young people about science and engineering. This was, I believe, the most exciting, unique, and satisfying part of the job
What do you consider your greatest achievement?
My greatest achievement so far has been getting a lectureship at the University of Cambridge. My success there was outstanding and something I never truly thought would happen when I first arrived in the UK in 2011 as a newly graduated engineer.
What is the best career advice you've ever received?
The best advice I ever received was not to sweat the small stuff. In any career, there will be setbacks and difficult times. The best thing you can do is stay focused on a long-term goal and, even if it feels like you haven't progressed, make sure you don't get discouraged.
Think back to a teacher who had a positive impact on your life. What did he/she do to influence you?
The special teachers who still stand out in my mind were the ones who went out of their way to provide me with whatever I needed to build my interest and foster my curiosity in subjects that I enjoyed. One teacher in particular had a unique capability to find out exactly what would excite her students. That level of attention and effort to engage students stands out as the most encouraging and impactful instruction I've ever received.
Which living person do you most admire? Or who are your heroes in real life?
I look up to women who were early pioneers in engineering and science fields. These heroes include computer scientist Margaret Hamilton; astronauts Roberta Bondar, Julie Payette and Mae Jemison; and engineer Nancy Fitzroy. All of those women have had careers marked by bravery, skill, and incredible perseverance.